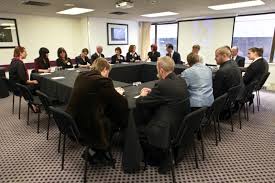 February 7, 2017 (Tuesday)

- Expeditors International, TOPICS: • Tyler Search presentation – 30 minutes
Barbara Winter Stevens, CPC, NAPW (Sr. Director-Executive Search-- Trade Compliance, Contracts & Supply Chain). She is to discuss what Tyler sees in the TC field from both the individual seeking employment perspective to the companies looking for candidates perspective.
• Roundtable Discussion – Free Trade Agreements, • Counselor's Corner



April 4, 2017 (Tuesday)

- Watlow, 12001 Lackland Rd, St. Louis, MO 63146
​Meeting Agenda: • STLTCPR status updates and Watlow host presentation (20 min)
• Short update on highlights of ICPA Miami conference (10 min)
• Roundtable Discussion: Compliance Measurements (45 min)
​We will have a speaker from Price Waterhouse Cooper to discuss best practices when auditing trade compliance functions. We will also have a few members briefly show examples of what they measure, what their reports look like, and what they do with their internal metrics.
• Counselor's Corner: Robert Shapiro



June 7, 2017 (Wednesday)


• A word from UMSL's Center for Transportation Studies
• Brief introduction to what the STTCPR is to new attendees.
• MADE IN AMERICA film viewing (40 min) followed by some Q&A with Agent Rackers.
• Counselor's Corner (time permitting) by Robert Shapiro from Thompson Coburn's Washington DC Office – highlights of what is happening in Trade from the Capitol.
PLEASE NOTE YOU MUST RSVP TO TONI GARCIA IF YOU ARE GOING TO ATTEND (tgarcia@watlow.com) IN ORDER TO RECEIVE A PARKING PASS PRIOR TO THE MEETING.
We are waiving our normal $10 meeting fee for non-members in an effort to promote both our group and this FBI film. Feel free to pass this flyer on to anyone (professional or student) that you think may be interested. I am told the auditorium for the film seats over 200 people. We will however accept any donations (although not required) that will go directly into the scholarship fund and program we are developing.
​

August 8, 2017 / (Tuesday) 6-8 P.M
.
Location: CityPlace 3
Meeting Agenda:
​U.S Customs and Border Protection Speaker **
** CBP Centers of Excellence and Expertise (CEE)​
Roundtable Discussion - Topic TBD
STLTCPR Board activity​​



October 10, 2017 6-8 P.M.


Location: Emerson Tool Company​
• Emerson presentation (5-10 minutes)
• STLTCPR Ted Galantowitz Scholarship Update – Your input is requested. (10-15 minutes)
o Details of the scholarship are being finalized. We may or may not have someone from the St. Louis Community College Foundation present to go over how the scholarship will work. We have to define eligibility requirements and the Board would like your input. ATTENDANCE AT THIS MEETING WILL MAKE SURE YOUR VOICE IS HEARD AS WE PUT THE FINAL TOUCHES ON THIS PROGRAM.
• STLTCPR Housekeeping (10 minutes)
• Roundtable Discussion (1 hour) – Topic: Trade Compliance Structure for Global Companies
o We are returning to a roundtable format for this meeting, and will be asking several people to discuss how their companies organize compliance functions on a global basis. Please plan on contributing to the conversation and be willing to speak to what has worked and not worked for you in the past. Come with questions you want to ask other members. We have had several members propose this subject as a future meeting topic.
• Counselor's Corner (30 minutes)
o Get the latest from Robert Shapiro on what is happening in Washington DC and what the current hot topics are we all need to be aware of from a trade compliance perspective.


​​​​​​​​​​​​​December 12, 2017 FROM 6 PM – 8 PM
• Meeting Location: Thompson Coburn's downtown office. Directions to be included in a subsequent meeting reminder.
• Meeting Agenda (subject to change)
o STLTCPR housekeeping topics
o Recent Government Conference Updates from members who attended the conference - C-TPAT, BIS, OFAC, CBP
o Roundtable Discussions
 Compliance issues around drop ships
 Managing HTS classification globally
 (we are still working on a potential guest speaker on Carnets – If speaker is secured, Carnets will replace roundtable topics)
o Counselor's Corner – Legal update from Robert Shapiro
o Committee Chair Elections
o Holiday Raffle – We will be raffling off three $50 gift cards to raise money for a holiday charity to be chosen at the meeting. Bring some cash (although we'll take your card too) and support STLTCPR's effort to make a charitable donation.
​​